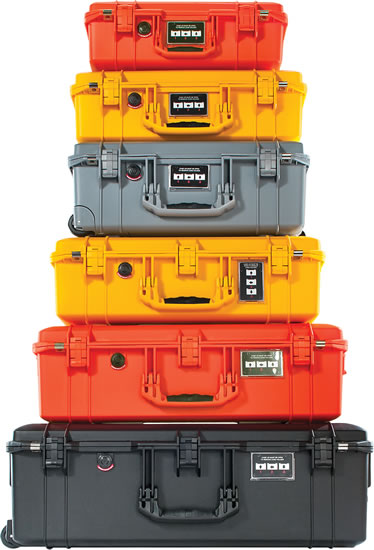 Heavy Duty Cases
Pelican Air Case
Relatively new to Caseline these cases are a really extrodinary example of engineering and have really impressed us with what they have managed to achieve with weight saving without sacrificing any of the legendary Pelican quality.
At up to 40% lighter than other polymer cases, Pelican™ Air cases lighten the loads of the dedicated pros across the world and redefines the future of protection with a remarkable union of light and tough. With the kind of innovation you'd expect from the pioneer of polymer cases, Pelican™ Air is as strong as the pros who use them.
At Caseline we are able to offer high quality custom Pro-Inserts. Manufactured in-house our inserts can be designed for every PELICAN Case shape and size.
We use state of the art NC routing machines to custom cut foam cavities to accommodate your product and ensure maximum protection. These can be coupled with a screen printable polypropylene plastic top to order and display your items to your requirements.
Offering a range of foam and plastic top colours further extends the customisation service we can provide.
Product Code

Internal L x W x H (mm)

External L x W x H (mm)
Weight (kg)
Wheels
Pull out handle
Price

451 x 259 x 156

487 x 325 x 175

2.40kg

-

-

$257.70

PA1507

385 x 289 x 216

428 x 358 x 235
2.40kg
-
-
$276.90

521 x 287 x 171

558 x 355 x 190

3.20kg

-

-

$273.60

518 x 284 x 183

558 x 355 x 228

4.50kg

2

Yes

$355.00

584 x 324 x 191

629 x 393 x 209

4.10kg

-

-

$316.70

PA155

7

440 x 330 x 246

558 x 335 x 337
6.0kg
-
-
$327.70

660 x 356 x 213

733 x 426 x 232

5.30kg

-

-

$408.50

PA160

7

535 x 402 x 337

613 x 478 x 337
6.0kg
2
Yes
$470.80

752 x 394 x 238

828 x 467 x 280

8.00kg

2

Yes

$470.60

PA16

37

595 x 446 x 337

676 x 525 x 387
6.90kg
2
Yes
$403.00