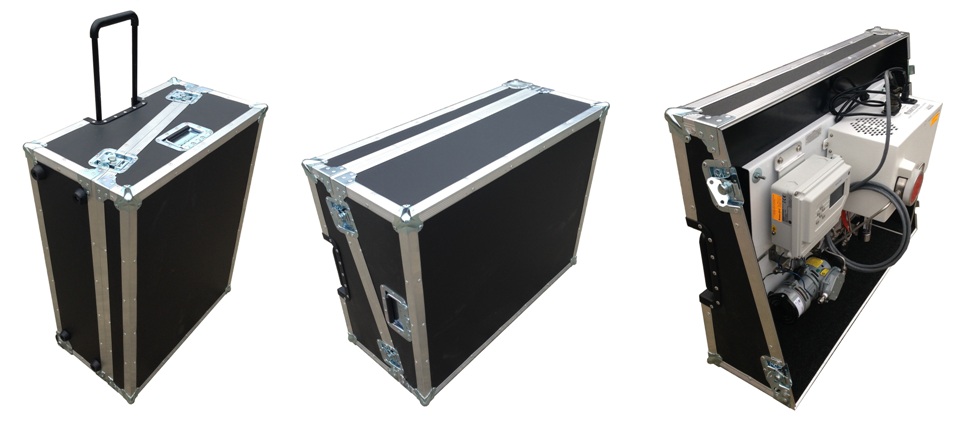 Heavy Duty Cases
Custom Cases
Custom Transit Cases, also known as Road Cases and Flight Cases, are the ideal solution for when you have specific dimensional requirements, or require special features not available on standard cases. Our custom cases can be designed so that your equipment can be used in situ and we can include just about any feature you can think of. All of our cases are manufactured in-house and we only use quality Penn panels, extrusions and hardware. As such we offer a 7 year warranty on all parts, material and workmanship.
Standard custom case construction includes:
| | | | | | |
| --- | --- | --- | --- | --- | --- |
| | | | | | Light weight polypropylene panels. We've been using these for over a decade now and have witnessed their superior performance first hand. Despite weighing half as much as an equivalent plastic or aluminium clad timber panel, they offer superior impact resistance and should be expected to outperform ANY of the other panel materials that are widely used in our industry. |
| | | | | | Extruded 30mm Aluminium Double Angle to all vertical and horizontal edges. We use a maximum rivet spacing of 150mm to ensure your case will stay together and remain operational, even in the event of significant damage. |
| | | | | | Extruded Aluminum Dust / Weather sealing between lid and base. Though our custom cases are not rated to be waterproof, they are certainly water resistant and we have received many a story of our cases being exposed to severe weather, without issue. |
| | | | | | Steel Corners and Corner Braces. We use zinc plated steel corners and corner braces to provide additional strength and reinforcement and to protect the areas that endure the most abuse through transit and day to day use. |
| | | | | | Recessed Handles & Latches. By recessing critical hardware components, they are protected from damage in instances where surface mount hardware would otherwise be prone to transit damage. |
| | | | | | Custom foam lining and fit-outs to suit your equipment and your needs. Whether you need an intricate foam cut-out, load bearing partitions, a fold out work space, drawers, power inlets - absolutely anything. If you can imagine it, we can incorporate it into your custom transit case. |
Our custom transit cases invariably meet MIL-STD-2073, IP65/67 and/or ATA 300 Category 1 specifications by default.
We can manufacture to any particular standard or specification you require.
This category is empty! Please try another category or use our search function to find what you are looking for. If you require further assistance please contact us.