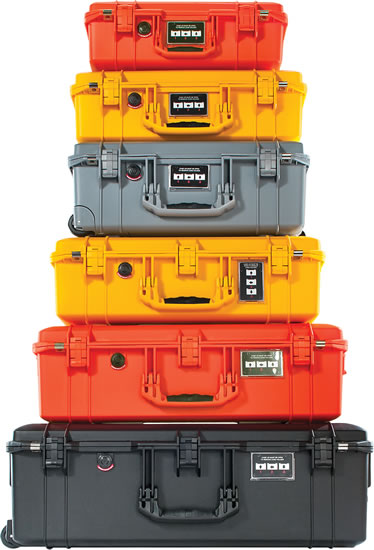 Heavy Duty Cases
Pelican Air Case
The Pelican Air Case is a really extraordinary example of engineering. These cases are up to 40% lighter than other polymer cases. Pelican Air Cases will lighten the loads of the dedicated pros around the world who have set out to change the game.
Combine the Pelican Air Case with our custom PRO-Inserts to keep your items safe and secure.
Features:
Water Resistant

Crush Proof

Dust Proof

Rubber Handles

O Ring Seal

Stainless Steel Hardware

Business Card Holder

Automatic Purge Valve – Keeps dust and water out whilst balancing air pressure.
At Caseline we offer our PRO-Inserts, which are a high quality custom made foam insert. Manufactured in-house, our inserts can be designed for every Pelican Protector Case shape and size.
Case

Internal
Dimensions
(mm)

External
Dimensions
(mm)

Base+Lid (mm)

Weight
with
Foam (kg)
Weight without
Foam (kg)

Wheels

Retractable Handle

Price
with Foam
(Inc-GST)
Price
without
Foam
(Inc-GST)

PA1465

473x254x278

529x321x324

152+125

4.00kg

3.20kg

N

N

$485.00
$405.00

PA1485

451x259x156

487x325x175

100+46

2.90kg

2.10kg

N

N

$355.00
$305.00

PA1506

475x239x198

511x305x217

147+51

2.90kg

2.40kg

N

N

$380.00
$325.00

PA1507

385x287x216

428x358x235

165+52

2.90kg

2.40kg

N

N

$380.00
$325.00

PA1525

521x287x171

558x355x190

121+51

3.20kg

2.70kg

N

N

$375.00
$320.00

PA1535

518x285x183

558x355x228

132+51

4.50kg

3.90kg

Yes

Yes

$490.00
$415.00

PA1555

584x324x191

629x393x209

140+51

4.10kg

3.30kg

N

N

$445.00
$375.00

PA1556

549x273x228

595x343x268

177+51

5.10kg

4.40kg

Yes

Yes

$525.00
$450.00

PA1557

440x330x248

487x401x267

196+51

3.70kg

3.00kg

N

N

$460.00
$385.00

PA1605

660x356x213

773x426x232

162+51

5.30kg

4.20kg

N

N

$555.00
$475.00

PA1606

623x312x260

696x384x300

209+51

6.70kg

5.60kg

Yes

Yes

$615.00
$525.00

PA1607

535x402x295

613x478x337

244+51

7.30kg

6.00kg

Yes

Yes

$645.00
$550.00

PA1615

752x394x238

828x467x280

187+51

8.00kg

6.40kg

Yes

Yes

$660.00
$550.00

PA1626

715x358x298

790x433x339

247+51

8.20kg

6.60kg

Yes

Yes

$690.00
$605.00

PA1637

595x446x337

676x525x378

284+51

8.80kg

6.90kg

Yes

Yes

$590.00
$470.00

PA1745

1118x426x202

1186x492x222

139+64

9.60kg

7.80kg

Yes

N

$620.00
N/A