Heavy Duty Cases
SPACECASE General Range
The Pelican Spacecase is a tough purpose built performer offering secure storage for your valuables. Moulded from UV stabilised polyethylene plastic, this is a high strength rugged case.
Features:
Water Resistant

Dent Proof

Rubber Handles

Zinc Planted and E-Coated Hardware- Stainless Steel hardware also available

Padlockable Lock

Keeper Pin to prevent opening under vibration

Interlocking Male/Female Ribs for secure stacking
Combine the Pelican Spacecase with our custom PRO-Inserts to keep your items safe and secure.
At Caseline we offer our PRO-Inserts, which are a high quality custom made foam insert. Manufactured in-house, our inserts can be designed for every Spacecase shape and size.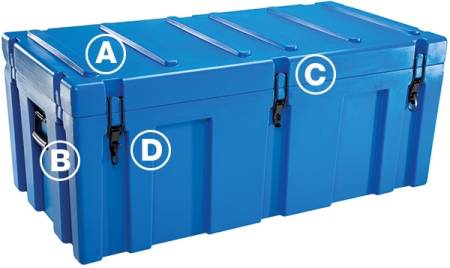 A Interlocking Male/Female Ribs for secure non-slip stacking on matched size cases
B Comfortable Rubber Grip Handles
C Recessed hardware protected from impact, snag-free exterior
D Zinc Plated and E-coated Hardware - Stainless Steel hardware is also available




E Keeper Pin prevents opening under vibration
F Over Centre Padlockable Lock to keep the inside cargo secure
G Weather Resistant Sealing System. EPDM hollow sponge seal in lid prevents moisture ingress.
Moulded tongue-in-groove parting line maintains original configuration after impact
H Reinforced Corners and Edges. 15-20% thicker corners and edges for added impact protection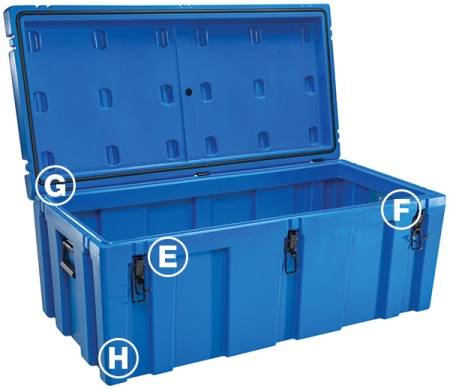 All Spacecases are available in Blue or Grey as Standard. Other colours available at an additonal cost of 10%. Custom colours can be manufactured to order and minimum order quantities apply. Please contact us by phone (03 5248 8573) or email (sales@caseline.com.au) for queries relating to Other Colours, Custom colours and Accessories.
General Range
These cases only interlock with cases of the same footprint (i.e. external length and width)
L20 – Refers to the external lid height = 200mm
L50 – Refers to the external lid height = 500mm
Product Code


(click for image)

External L x W x H (mm)
Opening L x W (mm)
Internal L x W x H (mm)
Weight (kg)
Price (Inc GST)

BG030030020

300mm x 300 x 200
225 x 225
250 x 250 x 155
2.50
$185.00

BG030030030

300mm x 300 x 300
225 x 225
250 x 250 x 250
3.30
$185.00

BG035034034

350mm x 340 x 340
300 x 300
320 x 320 x 300
3.50

$185.00

BG042033018

420mm x 330 x 180
350 x 255
340 x 290 x 150
3.10
$195.00

BG046038015

460mm x 380 x 150
395 x 305
420 x 335 x 105
3.30
$220.00

BG050045021

500mm x 450 x 210
420 x 375
450 x 400 x 165
5.00
$220.00

BG050045031

500mm x 450 x 310
425 x 375
450 x 400 x 265
5.50
$230.00

BG057032032

570mm x 320 x 320
490 x 225
510 x 265 x 290
4.00
$190.00

BG070055037

700mm x 550 x 370
580 x 435
630 x 480 x 315
9.00
$370.00

BG078038038

780mm x 380 x 380
700 x 290
720 x 330 x 310
6.00
$260.00

BG084031018

840mm x 310 x 180
765 x 255
765 x 255 x 150
5.20
$260.00

BG084044018

840mm x 440 x 180
765 x 375
765 x 375 x 125
6.75
$260.00

BG084044067

840mm x 440 x 675
775 x 375
765 x 375 x 620
13.00
$400.00

BG084044080

840mm x 440 x 800
765 x 375
765 x 375 x 770
13.50
$420.00

BG090040040

900mm x 400 x 400
795 x 295
800 x 305 x 325
12.50
$325.00

BG090055040

900mm x 550 x 400
755 x 405
850 x 490 x 325
12.50
$370.00

BG090062055

900mm x 620 x 550
825 x 520
860 x 570 x 500
18.00
$420.00

BG110090045

1100mm x 900 x 450
1000 x 800
1020 x 820 x 390
30.00
$1105.00

BG110110050L20

1100mm x 1100 x 500
940 x 940
1040 x 1040 x 350
35.00
$1,310.00

BG110110080L20

1100mm x 1100 x 800
940 x 940
1040 x 1040 x 700
45.00
$1,560.00

BG110110080L50

1100mm x 1100 x 800
940 x 940
1040 x 1040 x 645
45.00
$1,560.00

BG110110110

1100mm x 1100 x 1100
940 x 940
1035 x 1035 x 940
55.00
$2,040.00

BG120055040

1200mm x 550 x 380
1100 x 440
1150 x 460 x 300
15.00
$430.00

BG124028040

1240mm x 280 x 400
1165 x 180
1230 x 225 x 300
13.00
$380.00

BG140032032

1400mm x 320 x 320
1310 x 230
1310 x 240 x 235
13.00
$380.00

BG165110045

1650mm x 1100 x 450
1500 x 940
1565 x 1020 x 380
60.00
$1,845.00

BG215032032

2150mm x 320 x 320
2060 x 240
2055 x 235 x 235
19.00
$655.00