Heavy Duty Presentation Cases
BOB Case
The BOB case is an economical water resistant option that is great for small to medium jobs where protection is vital. Combine the BOB case with one of our PRO-Inserts and you will find this case will become an investment that will last you for years to come. BOB cases present a great budget alternative to more expensive cases.
Water resistant
Crush proof
Dust proof
Easy open latches
Larger models come with durable replaceable wheels and extended handle
O-ring seal
Convoluted wave foam and Pick 'n'Pluck base foam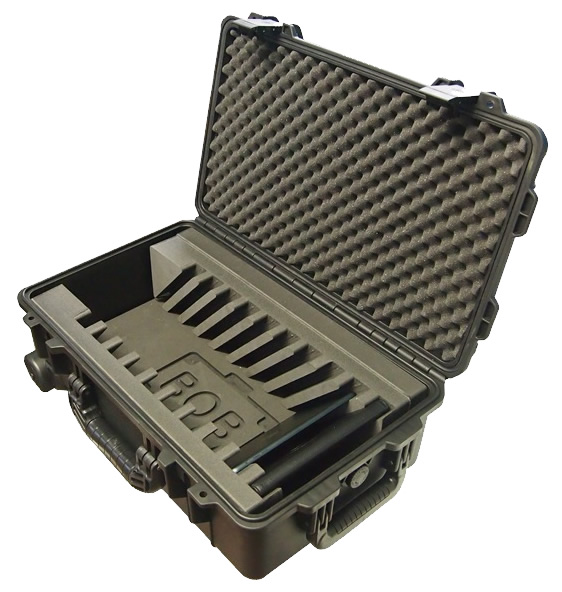 At Caseline we are able to offer high quality custom Pro-Inserts. Manufactured in-house our inserts can be designed for every BOB Case shape and size.
We use state of the art NC routing machines to custom cut foam cavities to accommodate your product and ensure maximum protection. These can be coupled with a screen printable polypropylene plastic top to order and display your items to your requirements.
Offering a range of foam and plastic top colours further extends the customisation service we can provide.
| | | | | | | | |
| --- | --- | --- | --- | --- | --- | --- | --- |
| Case | Internal Dimensions (mm) | External Dimensions (mm) | Base+Lid (mm) | Weight with Foam (kg) | Wheels | Extendable handle | Price Inc GST |
| B1812 | 185 x 120 x 75 | 210 x 167 x 90 | 65+10 | 0.63 | N | N | $43.30 |
| B2110 | 210 x 109 x 60 | 235 x 135 x 67 | 38+22 | 0.32 | N | N | $33.50 |
| B3022 | 295 x 215 x 103 | 330 x 280 x 120 | 75+28 | 1.80 | N | N | $79.20 |
| B3932 | 395 x 320 x 143 | 430 x 380 x 154 | 111+32 | 2.87 | N | N | $126.30 |
| B4835 | 480 x 355 x 180 | 515 x 415 x 197 | 101+79 | 4.10 | N | N | $155.10 |
| B5129 | 510 x 290 x 180 | 530 x 355 x 225 | 131+49 | 4.74 | Y | Y | $246.30 |
| B5130 | 510 x 290 x 240 | 530 x 355 x 290 | 192x48 | 5.10 | Y | Y | $301.00 |
| B4435 | 440 x 345 x 180 | 475 x 390 x 200 | 123+57 | 4.68 | Y | Y | $241.30 |
| B11342 | 1066 x 368 x 136 | 1133 x 422 x 155 | 90+46 | 8.60 | Y | N | $359.90 |
| B12733 | 1270 x 335 x 138 | 1346 x 394 x 165 | 90+48 | 10.3 | Y | N | $409.20 |